Hi, everyone! I'm finally back from my unexpected hiatus. Hopefully, today's post marks my return to AsianPopShock's regular schedule.
In any case, I'm hella psyched for today's packaging spotlight for the U.S. DVD release of Korean romantic comedy,
Finding Mr. Destiny
, which stars Gong Yoo ♥ and Lim Soo-jung.
I've been incredibly psyched about recently launched U.S. live-action distributor
5 Points Pictures
and the films the company's been licensing. The movies are all over the place as far as genre goes - from caper films (
Tazza: The High Rollers
♥) and romantic comedies (
Penny Pinchers
) to dramas (
Bleak Night
) and more (
Punch
♥,
The Suicide Forecast
,
The Happy Life
).
Finding Mr. Destiny
is the first of its titles to receive a DVD release, and if it's any indication of things to come, we all have a lot of good things to look forward to.
As far as physical packaging goes, 5 Points'
Finding Mr. Destiny
is pretty simple, but what art is used, is excellent. I love the cover shot featuring Gong Yoo in all his ridiculously silly (and ludicrously charming) glory.
Where the release shines is its on-disc extras. We're given 30 minutes of special features, including a "Making Of," production shoot, poster shoot, Gong Yoo's "A Second First Love" music video, TV commercial, and original Korean trailers. It also offers fans the option to choose either white or yellow subtitles during the film. I absolutely hate yellow subs, but I know there are some fans out there who love them. The fact that 5 Points thought about this when almost no other company does, indicates (to me anyway) that the people behind the scenes over there actually know the Asian film audience.
Finding Mr. Destiny
More photos ahead...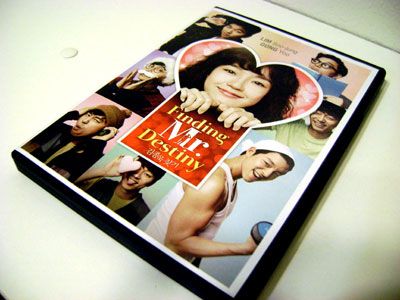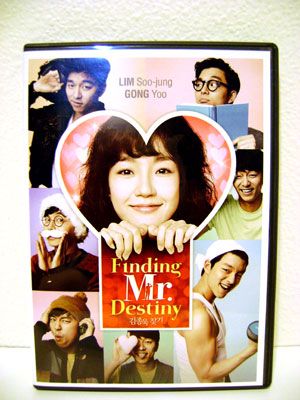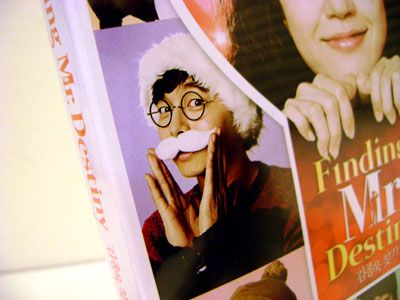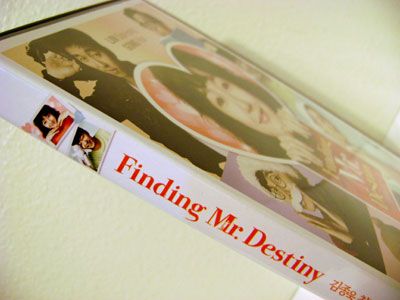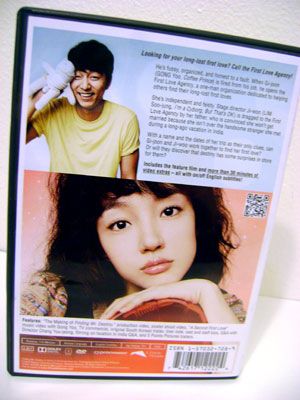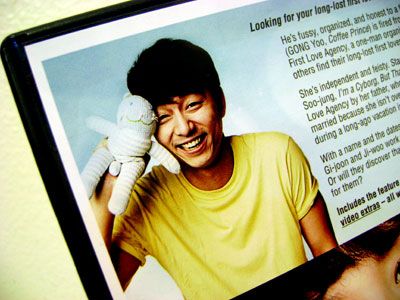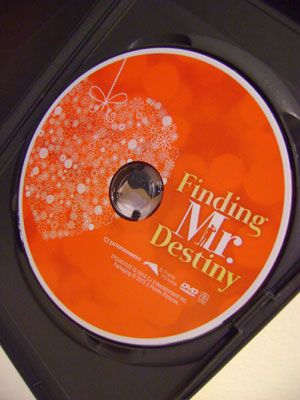 If you're a fan of Gong Yoo from
Coffee Prince
or the currently airing
Big
or you simply want to enjoy a romantic comedy that's genuinely romantic
and
funny, I definitely recommend picking this one up. The English-subbed Korean release is long out of print, and no other English-subtitled DVD/BD is currently available, so it's lovely to finally have another chance to own
Finding Mr. Destiny
.
From the back of the box:
Looking for your long-lost first love? Call the First Love Agency!

He's fussy, organized, and honest to a fault. When Gi-joon (GONG Yoo, Coffee Prince) is fired from his job, he opens the First Love Agency, a one-man organization dedicated to helping others find their long-lost first loves.

She's independent and feisty. Stage director Ji-woo (LIM Soo-jung, I'm a Cyborg, But That's OK) is dragged to the First Love Agency by her father, who is convinced she won't get married because she isn't over the handsome stranger she met during a long-ago vacation in India.

With a name and the dates of her trip as their only clues, can Gi-joon and Ji-woo work together to find her first love? Or will they discover that destiny has some surprises in store for them?
Special Features:
"Making Of" featurette
Production video
Poster shoot video
"A Second First Love" music video
TV commerical
Original Korean trailers
Specs:
U.S. Region 1, NTSC
5 Points Pictures
$24.99 SRP
1-disc
112 minutes, plus 30 minutes for special features
16:9, anamorphic widescreen
13+
Korean audio
English subtitles (option of white or yellow)
Trailer: